Early Bird Discount Offers
Home » News & Special Offers » Early Bird Discount Offers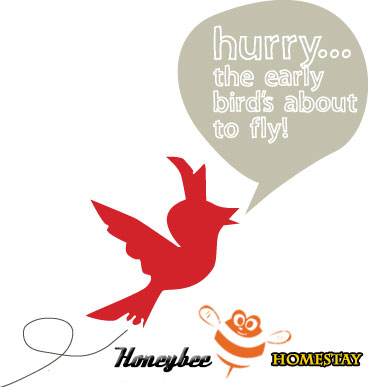 Posted on : 16-Apr-2015
Early bird discount offer !!! for the months of June & July 2015, get 5% discount on daily rent for our 2 bedroom and 3 bedroom homestay accommodation in Trivandrum, This offer is valid for guests who book their stay in advance for the months of June & July 2015 with honeybee homestay in April 2015 only. Hurry...!
Honey bee homestay is the best rated homestay in Thiruvananthapuram city. recommended for family and group travelers.. 3 Bedroom can accommodate upto 8 adults, 2 bedroom homestay can accommodate upto 4 adults.
Students and professional who seek long term (more thatn 1 month) accommodation can get upto 15% discount.
Do you have any Questions ? Post your Queries Click here